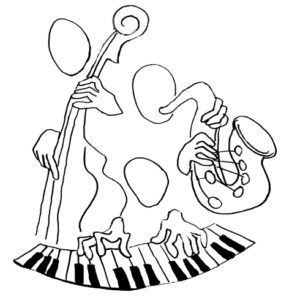 World famous Jazz Musicians historically have played the bi-annual Jazz Liturgy at Faith Lutheran Church and the same is true for this Sunday February 11th. Plenty of great hymns orchestrated in a modern jazz context including some Jimmy Smith things too !
Joining us "regulars" will be  the following musicians:
Max Morden, trumpet (legendary jazz producer Creed Taylor says of Mr. Morden, "this is who I wish I sounded like when I played trumpet"). 
Andy Farber, saxes: Juilliard professor, Wynton Marsalis collaborator. Recently backed Tony Bennett and Lady Gaga for their PBS special Cheek to Cheek Live. Arranged for Ray Charles, Stevie Wonder, Paul Simon, Willie Nelson.  .https://www.juilliard.edu/music/faculty/farber-andy
Steve Davis, trombone: "Steve Davis is one of the greatest trombone players in the World", (Freddie Hubbard). He was also a Jazz Messenger, what else can you say?  http://stevedavismusic.com/
John Girvin, piano, music director National Musical Education Specialist for Yamaha. Pianist with the NY/NJ All Star Big Band featuring alumni from Ellington, Basie, Ray Charles orchestras.
Leonieke Scheuble 2015 Best up and coming young artist, Hot House; 2013 & 2017 International Woman in Jazz award winner, TEDx speaker.http://www.leoniekescheuble.com/
Todd Coolman, bass: Two-time Grammy award-winner bassist, He has performed and recorded with a virtual "who's who" of jazz masters including Horace Silver, Stan Getz, Benny Golson, Benny Goodman, the Carnegie Hall Jazz Band and numerous others. https://www.toddcoolman.org/
Nick Scheuble, drums https://www.nickscheuble.com/music.html
Faith Lutheran Church is located at 524 South Street, New Providence, NJ
Services are free and open to the public at 8:30am and 11:00am
PLEASE COME-GUARANTEED TO BE THE MOST FUN YOU'LL HAVE ON A SUNDAY MORNING!