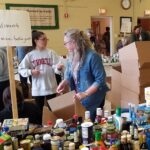 Continuing the Faith tradition of responding to the need in our community, we will take a hybrid approach for our Fall Food Drive this year, with volunteers needed to handle  food drop-off, sorting and packing spread out over a number of days.  Volunteers are needed November 6-10, 13 and 20 with time slots still available. (Volunteers must be age 12 or older, vaccinated, and wear a mask.) If you have any issue registering and want to help or have questions, please contact Cheryl Bock or the Church Office (908-464-5177) and we will be happy to assist.
Please click here to volunteer
As always, our Fall Food Drive supports families and individuals through the CSA (Community Service Association) of New Providence and Star Fish Interfaith Food Pantry in Plainfield.
We invite you to share your financial gift by check made payable to Faith with the memo line "Fall Food Drive". If you prefer, our food collection in the Narthex begins Sunday October 24 through November 19. Following is a list of canned and packaged goods which are of urgent need:
| | | |
| --- | --- | --- |
| Spaghetti Sauce 26½ oz. | Pasta | Powdered Milk |
| Condiments | Canned Meat | Pork & Beans |
| Cereal and Pop Tarts | Mac & Cheese | Peanut Butter & Jelly |
| Tea Bags | Coffee | Vegetables |
| Canned Fruit | Raisins | Soup |
As in previous years, we are partnering with the New Providence Scouts who will be collecting food from the town residents.  From November 6th-20th, we have many time slots to sign up to volunteer including:
unload bags of food from cars
sort, pack and box food
transport boxes to Starfish Food Pantry
Safety protocols limit each volunteer opportunity to 10 people at a time. All volunteers must be age 12 or older, vaccinated and wear a mask.