Pastor Mac
The Rev. Dr. Murdoch MacPherson, "Pastor Mac," has served as a Pastor of Faith since 1982.  Born in New York City and raised in New York and Camden, Pastor received his B. A. from Rutgers, his Master of Divinity from the Lutheran Theological Seminary at Philadelphia and his Doctor of Ministry degree from the Graduate Theological Foundation following studies at Notre Dame and Ancillia.
Prior to coming to Faith, Pastor served Grace Lutheran Church in Trenton; Grace/St. Bartholomew Lutheran parish in Trenton; and Trinity Lutheran Church in Dover, N.J.  Pastor has served as Director of Synod planning and on the Synod Council and for more than 30 years served as Director of Candidacy for the N.J. Synod, caring for Word and Sacrament seminarians and other rostered ministries.  He served as co-chair of the Mayor's Diversity Task Force in New Providence.
Pastor served for more than 3 decades as a guest lecturer at the College of St. Elizabeth and has served as a Holocaust Resource Educator at Drew University and at the College of St. Elizabeth, where he currently serves on the Advisory Board for the Center for Holocaust and Genocide Education.
Pastor and his wife Carolyn have three adult children who live in the area with their families.
Pastor  Jane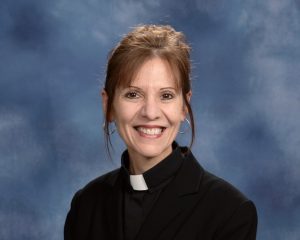 Pastor Jane McCready is a New Jersey native who is a lifelong Lutheran.  She was baptized at Gethsemane Lutheran Church in Keyport and growing up was a member of King of Kings Lutheran Church in Middletown. She has a B.A. from Indiana University in Bloomington, Indiana and received her Master of Divinity from The Lutheran Theological Seminary at Philadelphia. She has been a member of Faith Lutheran Church in New Providence since 1996. Pastor Jane worked in arts administration and as a Legal Assistant for several years, and was invited to join the administrative staff at Faith in 2003.   Pastor Jane graduated from Seminary in May 2014, was called by Faith, ordained and began serving the congregation as their Pastor in June 2014.
Pastor Jane currently serves as Chair of the Family Promise Union County Community Board; Chair of the New Providence-Berkeley Heights Interfaith Clergy Group; Chair, First Contact and Coordinator of the New Providence-Berkeley Heights Community Emergency Group; and is a member of The New Jersey Synod Mission Advocacy Table.
As part of her theological training, Pastor Jane had a variety of field opportunities that broadened and enriched her church experience.  In addition to Faith, she worked as a chaplain intern and did her clinical training at Overlook Hospital in Summit; Field Education at Zion Lutheran Church in Rahway; and Internship at St. Stephan's Grace Community in Newark.
Pastor Jane's has been a subtle call to ministry that has been ongoing throughout her life.  Pastor Jane's church service includes Assisting Minister, Altar Guild, Sunday School and Vacation Bible School Teacher, and Sanctuary Choir member and soloist.  She has coordinated the Broadway House AIDS ministry and volunteers since its inception; has traveled to Tennessee with the Appalachian Ministry Team for several years; has served on a Call Committee, Christian Education Committee, Church Council, Worship & Music Committee, and the Confirmation Retreat Planning Task Force. She coordinated and chaperoned Faith's delegation to the ELCA Youth Gathering, was the Summer Program Coordinator and the Youth & Family Ministry Committee Co-chair.
Pastor Jane has been recognized for her leadership in the community, as a Girl Scout leader and at her children's schools.  In addition to spending time with her husband and three children, she enjoys traveling, New York City, the theater, museums, music and sports.
John Girvin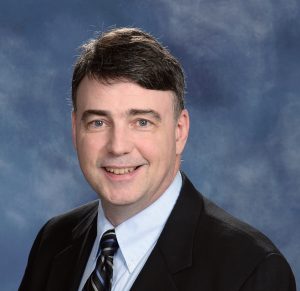 Dr. John Girvin, Minister of Music has been at Faith Lutheran Church since 2000, where he is organist, choir director and responsible for all musical activities at the church, including Sanctuary Choir, Faith Bell Ringers, and Children's Choir.
He was graduated from the University of Southern California Thornton School of Music, where he earned both MA and DMA degrees in Keyboard Collaborative Arts, studying with Kevin Fitz-Gerald.   While at USC he also minored in harpsichord performance, and was voted Outstanding Graduate of the Keyboard Department, Keyboard Collaborative Arts Department, and also Outstanding Graduate, Thornton School of Music.
Previous degrees include a MA from New York University and a BM from Montclair State University.
John has been on the faculty of USC, Chapman University and the County College of Morris, NJ.
He has been Minister of Music for several other congregations in California, including Christ Lutheran Church, West Covina, First Lutheran Church, Pasadena, La Habra Hills Presbyterian Church, La Habra, and in New Jersey, St. Joseph's RC Church, Mendham, and Trinity Lutheran Church, Dover.
Dr. Girvin also is a Music Education Specialist for Yamaha Corporation of America, under which he instructs of many of the top Yamaha school students around the USA as they prepare compositions for the National and International Yamaha Junior Original Concert program.  Several students have been selected for the IJOC in Tokyo, Japan, as well as the annual National JOC.  John has been selected as Music Director for several NJOC concerts.
As a composer and arranger, John has written many anthems for choir, bell choir and arrangements for brass ensembles, including new arrangements of our ELW Liturgy Settings.
Dr. Girvin has played as invited recitalist for the Metropolitan American Guild of Organists, and has recorded a CD featuring Faith's pipe organ, Gluck Pipe Organ's Opus 13.   John was the organist for Bishop Bartholomew's installation as well as other synod ordination events.
At Faith, John has created numerous new musical liturgies, drawing on eclectic styles including African Music Sunday, Music of Latin America, Celtic Liturgy, New Orleans Jazz Liturgies, Jazz Sunday, Taize Services, Music of J.S. Bach, Gospel Liturgies, Music of the Jewish Tradition and many liturgies accompanied by brass ensemble, string quartet, or harp and violin.
Recently, John founded the Music at Faith Benefit Concert Series, inviting world-class artists in musical programs that have supported many of Faith's outreach ministries.
John resides in Annandale, NJ, with his wife Christina, and daughter Seromi.