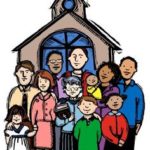 Worship & Potluck  Sunday: March 31, 2019 10:00 a.m.
In the months with a fifth Sunday during the regular church year, our Family of Faith will have one worship service at 10:00 a.m. so that all members will be able to worship together. Please join us for our first Fifth Sunday in two weeks on March 31 at 10:00 a.m.
Immediately following the service, we will have a Fellowship Brunch in Franklin Nelson Hall. Sunday School and Adult Forum will not be in session that day.  If you would like to sign-up to bring a dish or help with set-up or clean-up, please click on the SignUp link below or copy and paste the link into your browser:
https://www.signupgenius.com/go/20f0f4dafac2ea6ff2-331
A sign-up sheet is also available in the narthex. If you have any questions, contact Carol Lutz,  Diann Deal, or Maureen Lamberti. See you at Faith!